What is ODOO?
Odoo is a versatile and comprehensive open-source Enterprise Resource Planning (ERP) software solution that caters to businesses of all sizes and industries. Formerly known as OpenERP, it was rebranded as Odoo in 2014.
Odoo boasts a wide range of customizable modules, each addressing specific business functions, such as accounting, inventory management, project management, human resources, customer relationship management (CRM), and e-commerce. This modular architecture allows companies to tailor their ERP system to meet their unique requirements.
Notable features of Odoo include its user-friendly interface, real-time data access, and the ability to simplify complex business processes. This ERP system empowers organizations to enhance efficiency, streamline operations, and make informed decisions.
Core Modules of Odoo ERP: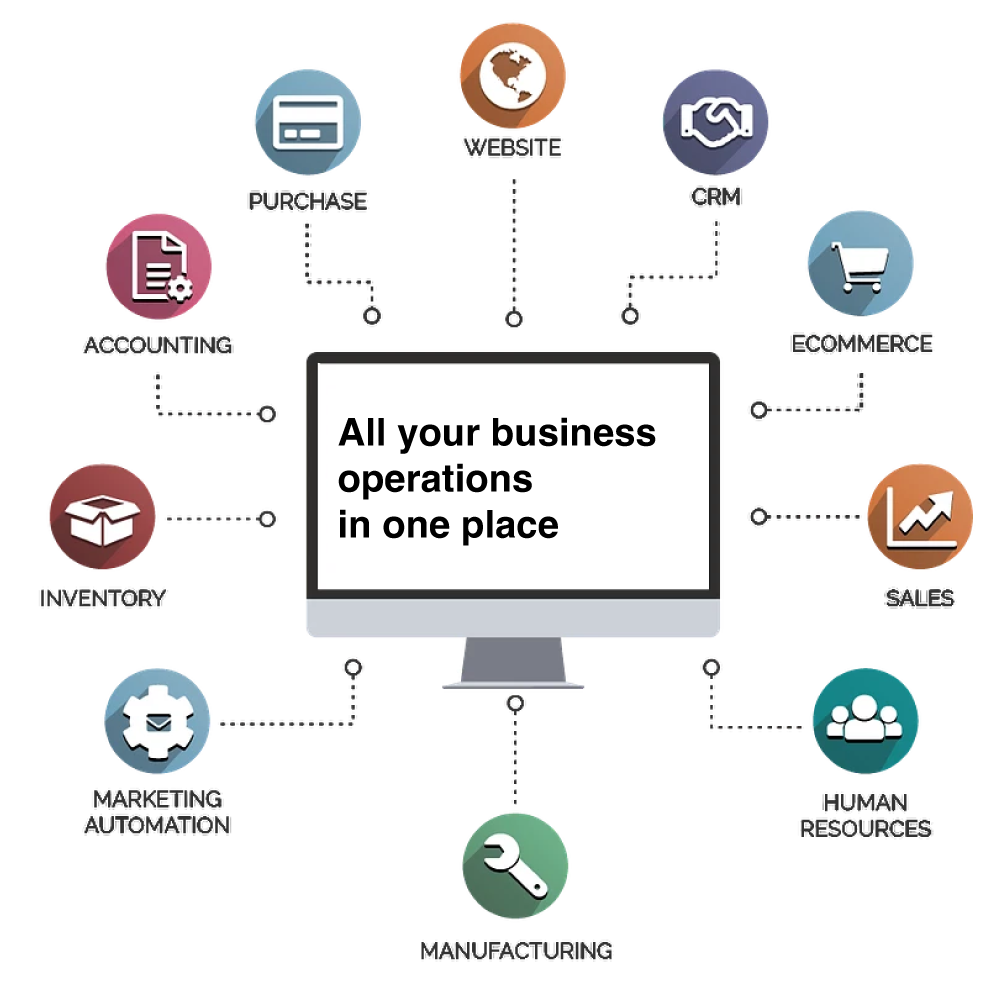 Sales: Effectively manage the sales process, from lead generation to order fulfillment, with features like lead tracking, quotation and order management, and invoicing.

CRM (Customer Relationship Management): Improve customer interactions through lead management, opportunity tracking, customer segmentation, and marketing automation.

Purchase Management: Streamline purchasing processes, including requisitions, vendor management, purchase orders, receipts, and invoicing.

Inventory Management: Efficiently manage inventory by monitoring stock levels, tracking product movements, optimizing stock, and utilizing barcode scanning.

Accounting and Finance: Handle financial transactions, accounts payable and receivable, invoicing, bank reconciliation, budgeting, forecasting, and financial reporting.

Project Management: Plan, allocate resources, track time, collaborate, and manage projects with features like Gantt charts, analytics, and resource allocation.

Manufacturing Management: Optimize production planning, scheduling, work orders, quality control, inventory management, and reporting for increased efficiency.

Human Resources Management: Automate HR tasks, including employee records, attendance, performance management, recruitment, payroll, and self-service.

E-commerce: Create and customize e-commerce websites, manage product catalogs, process payments, handle shipping, and analyze sales data to expand your online presence.
Conclusion:
Odoo stands out as an all-encompassing ERP system that centralizes business operations and data, making it a one-stop solution for companies. Its modular design, centralized approach, and extensive features make it a top choice for businesses looking to enhance their efficiency, productivity, and overall management.
At ONE58, we specialize in Odoo ERP implementation and are ready to assist you. Whether you're unsure about which modules suit your needs or require a customized solution, our team combines technical expertise and business acumen to provide you with the perfect Odoo ERP implementation tailored to your specific requirements. 
Contact us to get started on your journey with Odoo ERP.